The Way of the Cross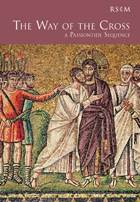 The Way of the Cross is a new publication of the Royal School of Church Music, and with refreshing words and musical forms it leads us into deep reflection on the meaning of the Cross for us all.




It is a joint time of worship for choir and congregation, with full opportunity for the congregation to participate.




It is usually sung at 6.30pm on the evening of Palm Sunday. Please see the Church Calendar.